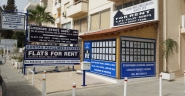 Psyllides Property Advisory
Real Estate Agents and Property Valuers
Thank you for choosing our website Propertyincy managed by the Licenced Real Estate Agents / Company:
Costas Psyllides - Licenced Real Estate Agent - Registration No. 244 and Licence No. 285
George Psyllides - Licenced Real Estate Agent - Registration No. 944 and Licence No. 469
C.G Psyllides Property Advisory LLC - Registration No. 1149 and Licence No. 469/E
Our office is well known in Limassol for its services and our main goal is to keep our customers satisfied.
We believe in a well-developed relationship with our customers since 1987 when it was the year we first established our business.
During the years, we have managed to lay great significance on a respectful collaboration and efficient communication with our clients. This has enabled us to understand and acknowledge our client's needs and requirements in order to develop what we believe success is…. "A long-term relationship"
Our Services include:
Property Rentals (Long or Short Term)
Property Sales (Flats, Houses, Shops, Offices, Plots and Land)
Property Valuations for any purpose
Property Management
Property Consulting
Property Agreements
European Citizenship scheme for the acquisition of Cypriot (EU) Passports / Citizenship to non-EU Citizens through Investment
Permanent Residence Permit to non-EU Citizens through investment in Property.
Our clients benefit from our knowledge, integrity, and a wealth of experience and thorough understanding of the Real Estate market. Whether you are selling, buying or simply investing, we will provide you the very best service every step of the way.
"Building Trust Through Performance"
Properties are advertised on a daily bases. In case, you do not find what you are looking for, please do not hesitate to contact us. We would be happy to assist you in order to find a property according to your needs and requirements.
Contact Details:
Main Branch
Office No. 7, Christine Complex, Block A, Amathus Avenue 12, Mouttayiaka, 4531, Limassol, Cyprus
Office
☎ (00357) 25103389, Fax 📠 (00357) 25327067
Contact:

info-psyllidesestates@primehome.com / info@propertyincy.com